When you're on the lookout for a new sofa, you'll notice that different styles have varying types of legs. This guide will help you articulate which kinds of furniture legs you'd like your new piece to have. Both Tapered legs and Turned legs can reflect your personal style.
Tapered Legs: Angie Sectional 4630 Sect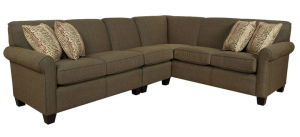 This England Furniture piece has tapered legs, which are sleek and modern and convey a higher level of sophistication. They look great complimenting a space with clean, sleek lines. This sectional is suitable for both small and large spaces.
Dimensions:
Width 86″
Depth 85″
Height 36″
Seat Depth 22″
Seat Height 20″
Turned Legs: Layla Sofa 5M05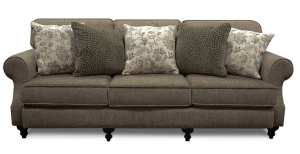 This dramatic sofa features turned wood legs. It has a more classic feel for a traditional space. This particular sofa comes in over 400 covers, with other pieces in the set including a loveseat, chair and ottoman.
Dimensions:
Width 119″
Depth 118″
Height 38″